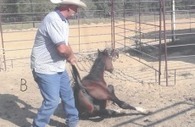 EPONA – Equine Protection of North America's insight:
Meet Stan Palmer. This is the man the U.S. Fish and Wildlife Service wants to "adopt out" some of the 400 wild horses it rounds up from the Sheldon Refuge on Monday.
This despite the fact that Palmer cannot account for the whereabouts of as many as 202 of the 262 horses received under a previous contract with FWS. Many likely went to slaughter.
Don't let the Feds send more wild horses to the slaughter
See on wildhorsepreservation.org