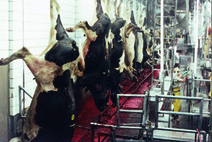 In 1958, the first federal Humane Methods of Slaughter Act (P.L. 85-765) is signed into law by President Dwight D. Eisenhower on August 27.
EPONA – Equine Protection of North America's insight:
I am tired of this, aren't you? Not only are they inhumanely killing our horses, but they are also scalding animals alive? How can we continue to turn a blind eye to this kind of suffering?
"If only people knew that when they ingest this meat, they are ingesting the molecules of intense emotional suffering and these molecules become part of them. And when we accept torture of animals, it is one of the first steps in a collective sociopathic pathology" Brilliant statement.
See on awionline.org