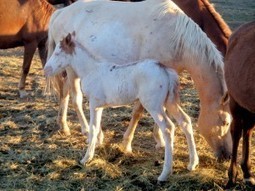 The baby horse stuck its hoof up in the air as if to say 'I am not going to step in that mud.' The little filly was born to a mare in the Catnip herd in Lantry, South Dakota.
EPONA – Equine Protection of North America's insight:
This wonderful rescues has lost so many horses and in dire need of donations for blankets, food, any and all help. Please donate or share this information out so others can help. Another storm is on the horizon, so Time is of the Essence.
See on www.theepochtimes.com