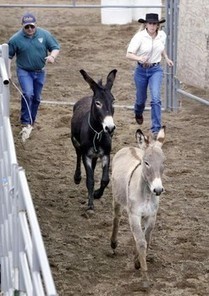 A wild horse and burro adoption is being planned by the U.S. Bureau of Land Management (BLM) on November 8 and 9, 2013. The wild horses and burros are the highl
EPONA – Equine Protection of North America's insight:
Henderson, NV, please share. If you are not aware of this, when horses and burros are NOT adopted after three attempts, they are then eligible to be sold via auction in which they are usually sold to Kill Buyers that take them either to Canada or Mexico for slaughter. You can thank the Burns Amendment for that nasty piece of legislation. As an American Taxpayer, you should be absolutely outraged that you have supported and protected these animals using your tax dollars, but yet, a private individual will profit off of their bones. Wicked indeed.
"What you Allow, Is What Will Continue"
See on www.examiner.com