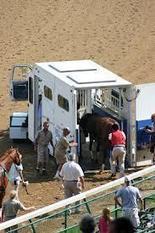 The following, unless otherwise noted, were "vanned off" American tracks this week. Monday: 4-year-old Alert Warrior, Parx, race 2 ("took several bad steps while in apparent distress…ran loose be…
EPONA – Equine Protection of North America's insight:
Unbelieveable that we will support entertainment that uses animals that are barely two years old and expect them to survive such a grueling task. So sad to see 15 horses injured or dead just for our entertainment. This is so very wrong.
See on horseracingwrongs.com